Markets and Events
---
Natural and Organic Food Show
ExCeL London July 7/8.
Cancelled in light of ExCel London being converted to a NHS-run field hospital
We shall be displaying at Natural and Organic Food Show in July. For more information about buying wholesale from us please see our wholesale page.
For more information about the exhibition visit www.naturalproducts.co.uk/natural-food-show/
---
Spring Garden Day
Saturday 9th May 10am - 3pm here at Watson & Pratts.
Cancelled
Talks & Demonstrations
11am: Huw Richards, local author of 'Veg in one bed' and new release 'Grow food for free' will be giving a talk along the theme of growing your own food. It will also be an opportunity to buy signed copies of his new book.
12pm: Peggy Beer, from Eldertree, our local sauerkraut producer, will be demonstrating how to make your own sauerkraut or kimchi at home. On hand to answer all your fermentation questions.
12.30pm: Emma Bird, from Bird Farm Alpacas will be demonstrating some willow-weaving techniques and throughout the festival she will be showing us traditional spinning of alpaca wool. She will be selling her willow & wool creations on the day too.
1pm: Kelly-Marie and Andrew from Kintala flowers will be demonstrating how to use and make wonderful designs from locally grown sustainable flowers and shrubs, bringing magic to a very seasonal artform. They will be selling their flower designs on the day too.
1.30pm: Viv and Catherine will be demonstrating how to make your own beeswax wraps for home. She will have plenty of products to buy also for those who are not quite so handy!
Local Producer Stalls
Gwynfor growers – experts in plants that thrive in this area will be here selling fruit plants and a wide variety of other plants. They will be happy to chat about your growing successes and advise on what would grow well for you.
Flower Meadow – Sara will be selling her beautiful bunches of seasonal flowers grown just down the road.
Cardigan Bay Honey – Aberystwyth-based local beekeepers and honey producers will be here selling a wide range of products.
Wainwrights Honey – More local honey, and honey from around the world to try and buy. From Ceredigion to Zambia, find out about the different methods of extraction and get a chance to try for yourself.
Contis will be here with their ice-cream to enjoy available by the scoop. Yummy!
Cwrw Camel Brewing Co. will be selling their locally-made beer on draft on the day…..see other activities for more from them on the day too.
Jawa Kombucha will be having a stall, tasting out and selling their amazing range of drinks.
On the day, we will be offering 10% off all gardening accessories, including seeds, planters, tools, and much more.
Local interest organisations
Incredible Edibles, a local organisation committed to using urban spaces to grow food for free will be here to plant more outside our shop, and to have a chat if you are keen to get involved.
Other Activities
Children's Corner from Peggy's Childminding
The children's craft corner will give your little ones the chance to make their own seed bomb, or create a bug hotel for the garden. There will also be cress egg shells to make and paint.
A donation of £2 towards material costs are greatly appreciated.
Tool sharpening
Alec Page the blacksmith will be here to sharpen tools, so bring along anything and everything from home and he will get the edge back for you. He will also be selling some of his metal creations and if you have a job at home that needs a gate or fence, he takes on commissions too so have a chat. £1 per item to sharpen.
Local hop growers' group
Cwrw Camel Brewing co. will have hop plants to buy, and you can join their local growers' group on the day too. On hand to give advice on your plants, they will then make a special seasonal beer with the hops from the local growers hops each year. What better way to learn more about beer-making from start to finish?
Food & Drink
Tea, coffee & food will be available throughout the day, & the bakery will be producing a big selection of cakes and afternoon tea, plenty to keep you fuelled up for the day.
Music
There will be music to enjoy throughout the day.
Weather
We hope for a gloriously sunny day so we can enjoy all the activities outside, but if the weather decides to be gloomy, we have the wonderful option of holding the event inside our produce warehouse.
Raffle
In order to raise money for Wales Air Ambulance, we will be running a raffle, with lots of amazing prizes donated from local producers and our shop. Tickets will be available in the shop from the end of April, and on the day at the festival. It will be drawn at 2pm on Saturday 9th.
---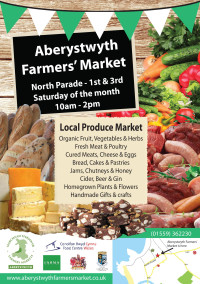 Aberystwyth Farmers Market
WE ARE UNABLE TO ATTEND AT THE MOMENT, SORRY, We hope to be back soon.
1st and 3rd Saturday of the month from 10am to 2pm.
To find out more including directions please visit their Facebook page.
---